The layout of the studios 2 and 4 was mostly the same.

An important difference between these studios was that studio 2 was always "live", whereas studio 4 could be switched with a simple toggle switch, so that it could be used for "live" and as recording studio.
The layout of the studios is as follows:
Storage of cassette tapes
Cassette players (4 pieces)
Volume meters of the mixer
Visual door bell
Mixer (see below)
Record players (3 pieces)
Connections for external equipment
Mysterious other equipment, e.g. pre-amplifiers
Seating for the dics jockey or technician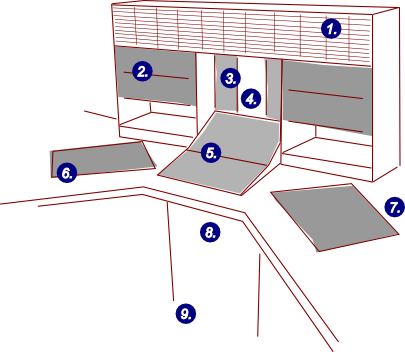 Of course there was also a microphone available for the disc jockeys. Over the left shoulder of the disc jockey or technician there was another seat for a (second) host. Also the microphones of studio 3 could be used for each studio.
The mixer was in fact composed of two mixers. The microphones had their own sub-mixer that was then again lead onto an input of the main mixer of the studio. That way microphones could be easily closed at the end of an interview.
Futhermore there were inputs for record players, cassette players, external equipment, microphones, telephone. A number of inputs could be switched depending on the desired audio source.
Each mixer consisted of separate modules that were slid together and connected with flat cables. Each mixer had its own volume meter (indication of the volume).
Later the much-aged equipment got replaced in studio 2 and the remaining parts could be used to refurbish studio 4.